My Funeral Boy is a song by Nicole Dollanganger that was released as a single on July 5, 2013. The rough take is not in common circulation.
Background
Edit
It was posted to Tumblr with the following caption and image:
"Ok so over the last few months I tried to do things a little differently and wrote maybe 20-30 songs all electronically based but didn't end up liking any of it so I trashed the whole thing and moved on, but this is one song I wrote for a friend that I didn't want to delete because it was meant to be a kind of gift to him! So here it is. I also thought it might be cool to post the scanned pages of my book from when I wrote this song so everyone could kind of see the process I have with song writing."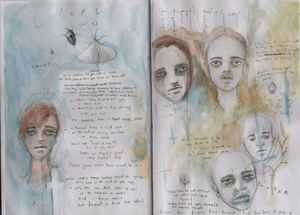 The lines "You're no light of my life / No fire of my loin" loosely reference the first lines of Lolita, a 1955 novel by Vladimir Navokov.
In a meadow, I've planted a white cross
For every piece of skin you've cut or burned off
In the wake at a funeral home, I fill your coffin with flowers
To warm your bones

As other have tried to save you, I have not
Where others tried to dig you up, I let you rot
My funeral boy
I know you're already dead
Never wanted to bring you back to life
Only wanted to go down there with you
My funeral boy, my funeral boy

Every time he cuts himself an angel gets their wings
(My funeral boy)
Every time he burns himself my skin begins to sting
My funeral boy

Never wanted to bring you back to life
(Every time he cuts himself)
My funeral boy
Only wanted to go down there with you
(An angel gets their wings)
My funeral boy, my funeral boy

You're no light of my life
No fire of my loin
Flowers on your eyes
Where there should be coins

And your face is as white as the light at the end
But your mind is as dark as the tar at the bottom of the water
My funeral boy, my funeral boy